We're pleased as punch to be working with acclaimed Nashville music artist Kevin Gordon on the design of his website and two  CD releases.
Over the course of twenty years of writing, recording and touring, Kevin Gordon has built an impressively consistent catalog of songs, a critically-acclaimed stack of albums, and a reputation for dynamic live performances that make first-time listeners life-long fans. He is currently completing his next full-length album, to be released in the spring of 2010.  Live site is here.

Gordon's songs have been recorded by Keith Richards, Levon Helm, Southside Johnny and the Asbury Jukes, Irma Thomas, Webb Wilder, Kate Campbell, and others. His recordings are featured in major motion picture soundtracks and in national advertising campaigns. Raised in north Louisiana and currently based in Nashville, Kevin earned a master's degree in poetry from the University of Iowa Writers' Workshop.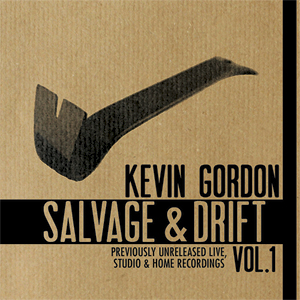 We've worked with Kevin on his most recent release "Salvage and Drift."  He describes it thusly: "Over the last year I've been going through boxes and piles of unreleased recordings, putting together a group of tracks that work on their own, and with each other, to illuminate my own creative process (via home recordings and studio demos) or just let you in on a really good time (live tracks). Volume 1 contains tracks dating from 1994 to 2009. In future volumes I hope to go back farther. The idea is to let you hear a little more from me, not only in releasing a new studio record more than once every five years, but also in sharing some things that lead to, or beyond, those records. " Head over and pick up a copy here.